Translation from Danish and French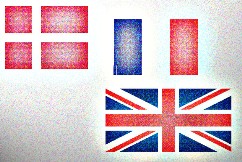 Having lived, worked and travelled in Scandinavia, France and Switzerland, as well as other parts of Europe, I am familiar with much of the cultural context of what I am translating, and I am therefore in a good position to use appropriate styles, registers and idioms when translating European material into English. This is especially true when I am working in my own areas of interest, that is to say education, the humanities and tourism.
My customer list has included:
The Princess Selandia floating club–restaurant (Barrow);
Language is Everything (formerly EITI);
Christine Wood Translations (Sedbergh);
Eurocom (Bolton);
The City of St. Petersburg Tourism Authority and
Svart og Hvitur Magazine (Reykjavik).
Of the above, one has taken well–earned retirement, two companies have gone out of business and the agencies now only pay pennies – so translation is rather on the back–burner at the moment.
See my translation of the poem Til Ungdommen – To Youth, and read the article I wrote for The Friend about the poem and its author shortly after the mass killings in Norway in July 2011.
I am a member of the Society_of_Authors and the Translators'_Association.